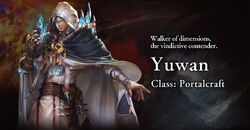 Yuwan is the leader for the new Portalcraft class, coming to Shadowverse in the December 28, 2017 update.
Yuwan is a vengeful warrior who has the power to traverse dimensions, and will fight alongside Arisa and the others to save the world. He will also have his own storyline which will be added in a future update.
Ad blocker interference detected!
Wikia is a free-to-use site that makes money from advertising. We have a modified experience for viewers using ad blockers

Wikia is not accessible if you've made further modifications. Remove the custom ad blocker rule(s) and the page will load as expected.